Update June 6
The Diocese of Richmond has changed the minimum age of those who have to wear a mask from age 3 to age 10. Attendees from age 10 and up must wear a mask to Mass.
Update May 22
We have received our conditional approval to reopen our Parish this weekend for in-person worship services. Please review the Parish Flyers below which outlines the specifics on the conditions we must follow in order to reopen our church for in-person worship services.
We ask everyone who wishes to attend an in-person service to read and comply with this requirements. Per the Diocese requirements, no one will be invited inside the church without a personally provided face mask and can answer negatively the three required questions.
For those who would like to attend confession, the following schedule has been determined to best accommodate this desire, and still provide ample time for the church to be cleaned and disinfected prior to the start of Mass.
Saturday – Confession: 3:30pm – 4:30pm | Mass: 5:30pm
Sunday – Confession: 7:00am – 8:00am | Mass: 9:00am
Sunday (Spanish) – Confession: 2:00pm – 3:00pm | Mass: 4:00pm
Thank you for your patience and cooperation as we work to comply with the Diocese and Commonwealth instructions so we can worship together in our beautiful church while maintaining the required social distancing guidelines.
Thanks for your continued service to our Parish.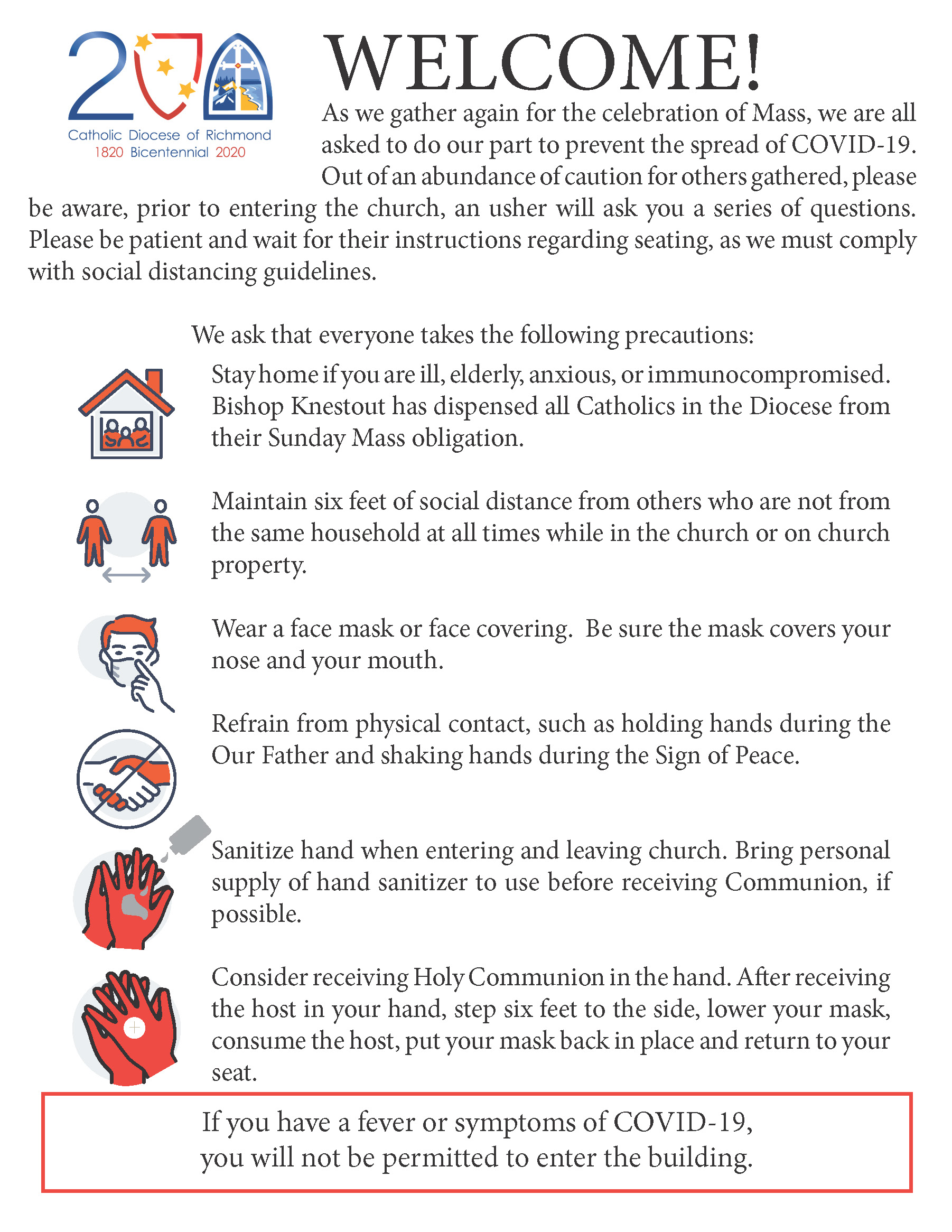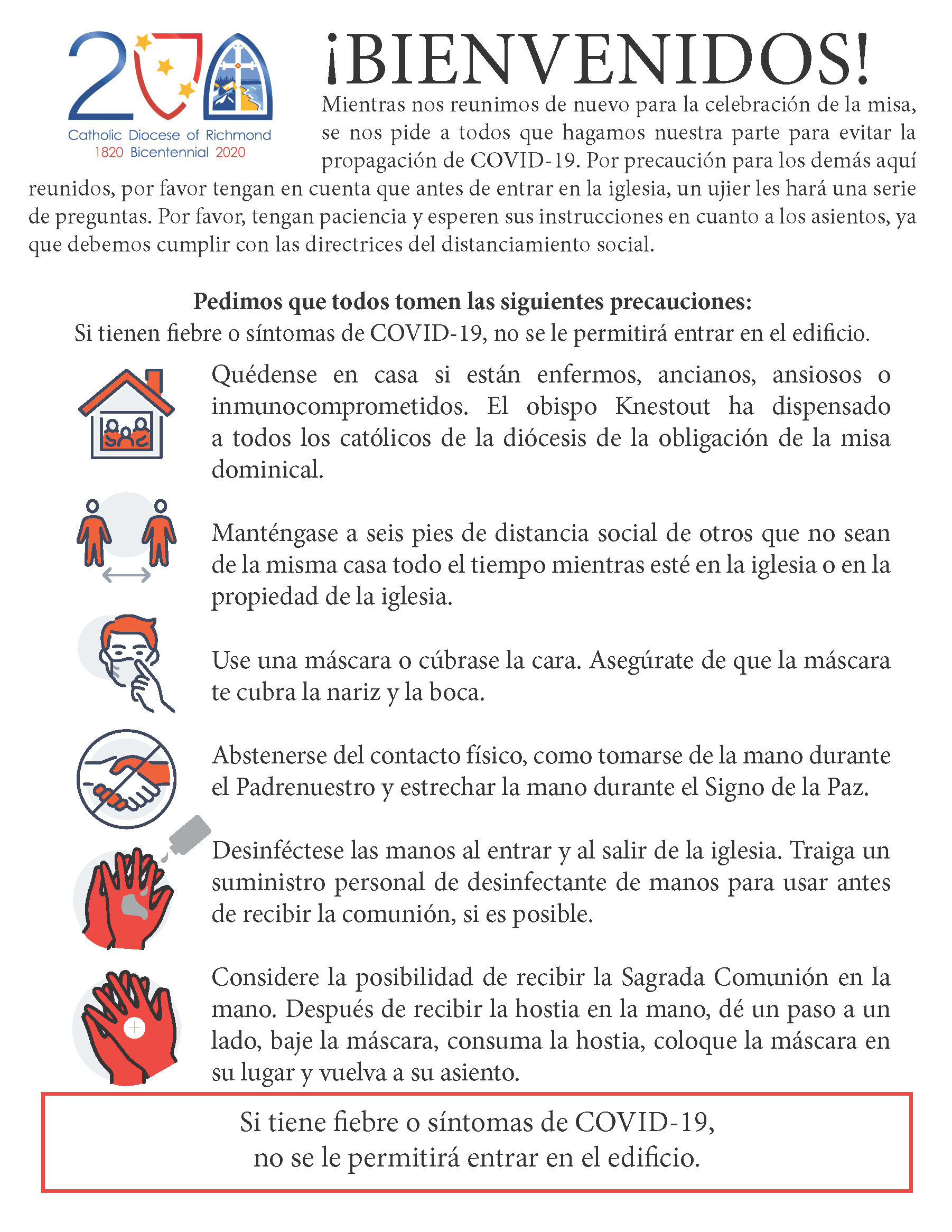 Update May 15
Masses to Resume May 23rd, 2020!


It is official from the Bishop's Office!!! Masses will resume with no more than 50% capacity on Saturday, May 23rd. There will be some mandated changes to how we practice our Mass. Effective immediately:
1. You are asked to stay home if you are ill, elderly, anxious, or immunocompromised. Bishop Knestout has dispensed all Catholics in the Diocese from their Sunday Mass obligation.
2. If you have a fever or symptoms of Covid-19, you will not be permitted to enter the building.
3. You should arrive at least 30 minutes prior to the start time for Mass to allow time for vetting and being seated by the ushers. The ushers will let each pew know the staggered process for exiting the Church once Mass is over.
4. Everyone shall maintain six feet of social distance from others who are not from the same household at all times while in Church or on Church property.
5. Everyone 3 years and older attending Mass shall wear a Face Mask. Be sure the mask covers your nose and mouth. (Face mask should be removed for Receiving Holy Communion.) Anyone who comes to Mass without a face mask, will not be admitted to Mass.
6. Look for direction from the ushers when going up to receive Holy Communion. Holy Communion should be received in the hand until further notice. There will not distribution of the Blood of Christ until further notice.
7. Refrain from physical contact, such as holding hands during the Our Father and shaking hands during the Sign of Peace.
8. Singing by the congregation is strongly discouraged.
9. Sanitize hands when entering and leaving Church. Bring personal supply of hand sanitizer to use before receiving Holy Communion, if possible.
10. Parishes are to suppress the distribution of bulletins at Mass at this time. *We will continue to make the bulletins available online, through email, and mail bulletins to those without
Internet access.
11. The Church will be available Monday-Friday from 9am 'til 4pm for prayer. Call Parish Office at 804-843-3125 first, if no answer, try Father on his cell at 757-778-5118.
12. Father Oscar will continue to livestream on our Facebook page, the Sunday morning Mass at 9:00am until further notice. The Daily Masses will no longer be livestreamed as parishioners will be able to attend weekly Mass
13. Mass Schedule beginning May 23rd
Daily Mass: Tuesday-Friday 8:30am
Saturday Vigil Mass: 5:30pm
Sunday Mass: 9:00am
Spanish Mass: 4:00pm
Update April 9
Bishop Knestout will be livestreaming the following Masses from the Cathedral of the Sacred Heart: Holy Thursday (6:00 pm); Good Friday (3:00 pm); Holy Saturday (8:00 pm); Easter Sunday (10:00 am). To view the livestream of these Masses, visit www.richmonddiocese.org/livestream.
Update April 2 – From the Diocese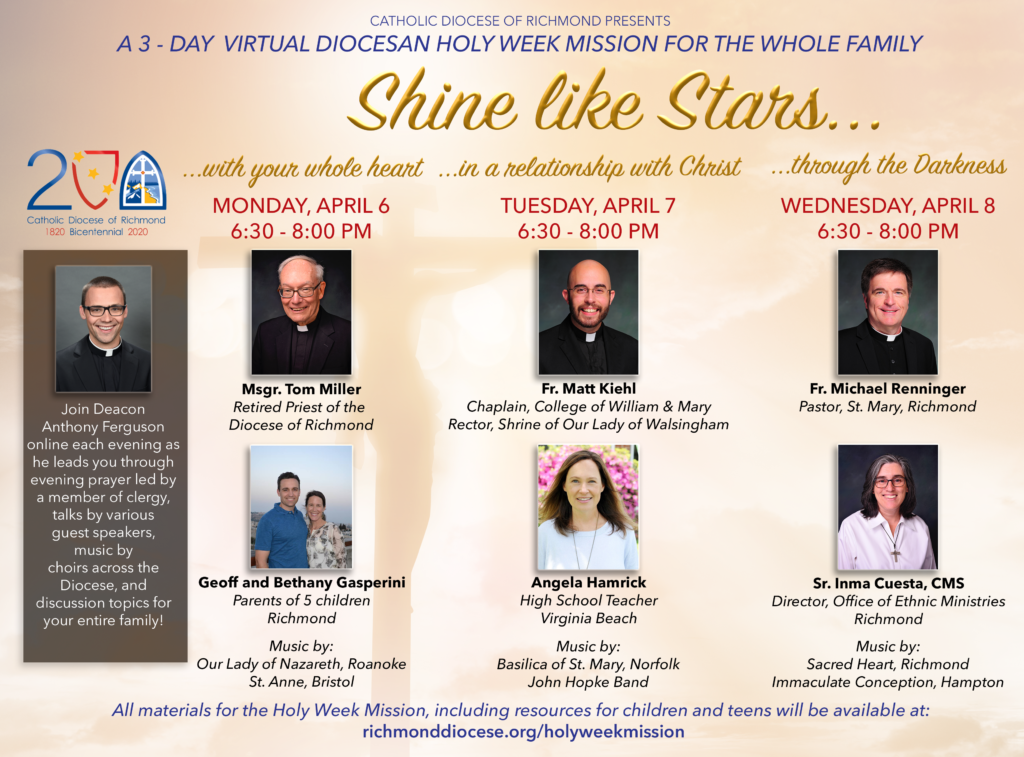 Update March 18 – From the Diocese
Dear Priests, Deacons, Seminarians, Principals, Campus Ministers, and Lay Leaders,
Today, we continue to keep in prayer all those who are affected by COVID-19 as well as those who are caring for them. In this season of Lent, we are reminded of our Lord's desire to be close to us especially as we experience moments of change and transition. We are grateful for your continued leadership during this time.
What has happened to date?
A web page (www.richmonddiocese.org/coronavirus) is the central repository of the diocese's response to the coronavirus. This web page is updated frequently and is your best resource for the most up to date information.
An email address (prepared@richmonddiocese.org) has been established for the Pastoral Center staff, clergy and laity across the diocese, to ask questions or share information about this evolving situation.
What updates happened today?
Bishop Knestout will livestream his private Sunday Mass at 10:00 am. Further details and log-in information can be viewed at www.richmonddiocese.org/livestream. Please share this information with your parishioners.
The Office of Worship has developed several resources to assist the clergy and the faithful as they continue to encounter Christ during this time. These resources will continue to be updated in the coming days and weeks and can be located here: www.cdrworship.org/coronavirus. Today, several important resources have been posted:
Guidance for priests to assist them in the celebration of a private Mass without the People.
Links to free versions of Give Us This Day and Magnificat.
Prayer Card and Guidance for Spiritual Communion (coming soon).
The Office of Human Resources has provided best practices for managers and employees to assist them in telecommuting and working from home. These documents are attached for your reference and use.
Out of an abundance of caution and care, Bishop Knestout has directed all Pastoral Center employees to telecommute through Friday, March 20, 2020. Pastoral Center employees are working a normal schedule and can be contacted through their phone or email. No visitors are permitted to the Pastoral Center at this time. Any questions can be directed to prepared@richmonddiocese.org.
Based on the local public school system's guidance, All Saints (Richmond), Blessed Sacrament (Powhatan), Charlottesville Catholic (Charlottesville), Our Lady of Lourdes (Richmond), Saint Benedict (Richmond), and Saint Bridget (Richmond), Saint Edward-Epiphany (Richmond), Saint Mary (Richmond) Catholic Schools will be closed through April 17, 2020. All other diocesan schools are closed through March 27, 2020.
Bishop Knestout has self-quarantined as a precaution. This information can be found on our website at www.richmonddiocese.org/bishop-barry-c-knestout-self-quarantines-as-a-precaution. Further updates will be shared as they are available.
Updates to the Emergency Preparedness Instructional Manual
In addition to the information in the Emergency Preparedness Instructional Manual, the following clarifications will be made:
GUIDELINES FOR USE OF CHURCH BUILDINGS FOR PRIVATE PRAYER
Private Masses should be celebrated only with the priest present.
Concelebration may be done when the priests live in the same rectory.
Seminarians may serve or attend the Mass, if they live in the same rectory as the priest.
One Deacon may serve the Mass.
Otherwise, no members of the lay faithful should be present in any case or capacity except to assist with livestreaming of the Mass. In this instance, only one lay person should be present and should not be shown on the camera or serve in any liturgical ministry. Additionally, this individual should not receive communion during the Mass, but rather after the livestreaming has concluded immediately following the Mass if it is his/her desire. All care should be taken to ensure the same lay person assists at each livestreamed Mass requiring assistance.
No musicians or cantors should be present.
GUIDELINES FOR USE OF CHURCH BUILDINGS FOR PRIVATE PRAYER
Materials that have been used in previous weeks or currently for prayer (hymnals, prayer books, bibles, rosaries) should be wiped down and sanitized. It is suggested that any materials not used to facilitate prayer or excess materials be sanitized and stored to reduce the amount of items that need to be sanitized daily.
What will happen in the coming days?
In consultation with our neighboring dioceses, the Task Force is reviewing potential scenarios for celebrating Holy Week and the Easter Triduum. Guidance for parishes should be available early next week.
Our ministry to those who are sick and ill should continue with appropriate safety precautions. In particular, priests should continue to provide the sacrament of Anointing of the Sick and Confession to those who most need these means of grace and salvation. It is suggested to review the resources provided by the CDC, the VDH, and local healthcare providers. Further guidance can be found in the Emergency Preparedness Instruction Manual.
The Task Force continues to gather each morning to discuss and respond to developing needs. We will continue to send regular communications to the Pastoral Center staff and diocesan entities as the coronavirus situation continues to evolve.
Please know that the Lord continues to walk with us and He is near. Know also of my prayers for you in the coming days.
Sincerely in Our Lord,
Very Rev. Michael G. Boehling
Vicar General and Moderator of the Curia
Catholic Diocese of Richmond
7800 Carousel Lane | Richmond, VA 23294-4201
Office: 804-359-5661
---
Update March 17
All Masses continue to be suspended, including daily Mass. Anyone who would like to pray or have other devotional practices in the Church between the hours of 9am to 4pm Monday – Friday are asked to please contact the Mercy Center 804-843-3125 or Father Oscar's cell 757-778-5118 to arrange for access to the Church. No more than 10 people at a time allowed and social distancing of at least 6 feet continues to be required. Sunday morning classes, bible studies and youth group are also suspended until further notice. Those who are able, please consider sending your offertory to the office at 207 W. Euclid Blvd, WP 23181 so that the Church can continue to meet expenses. Thanks!
---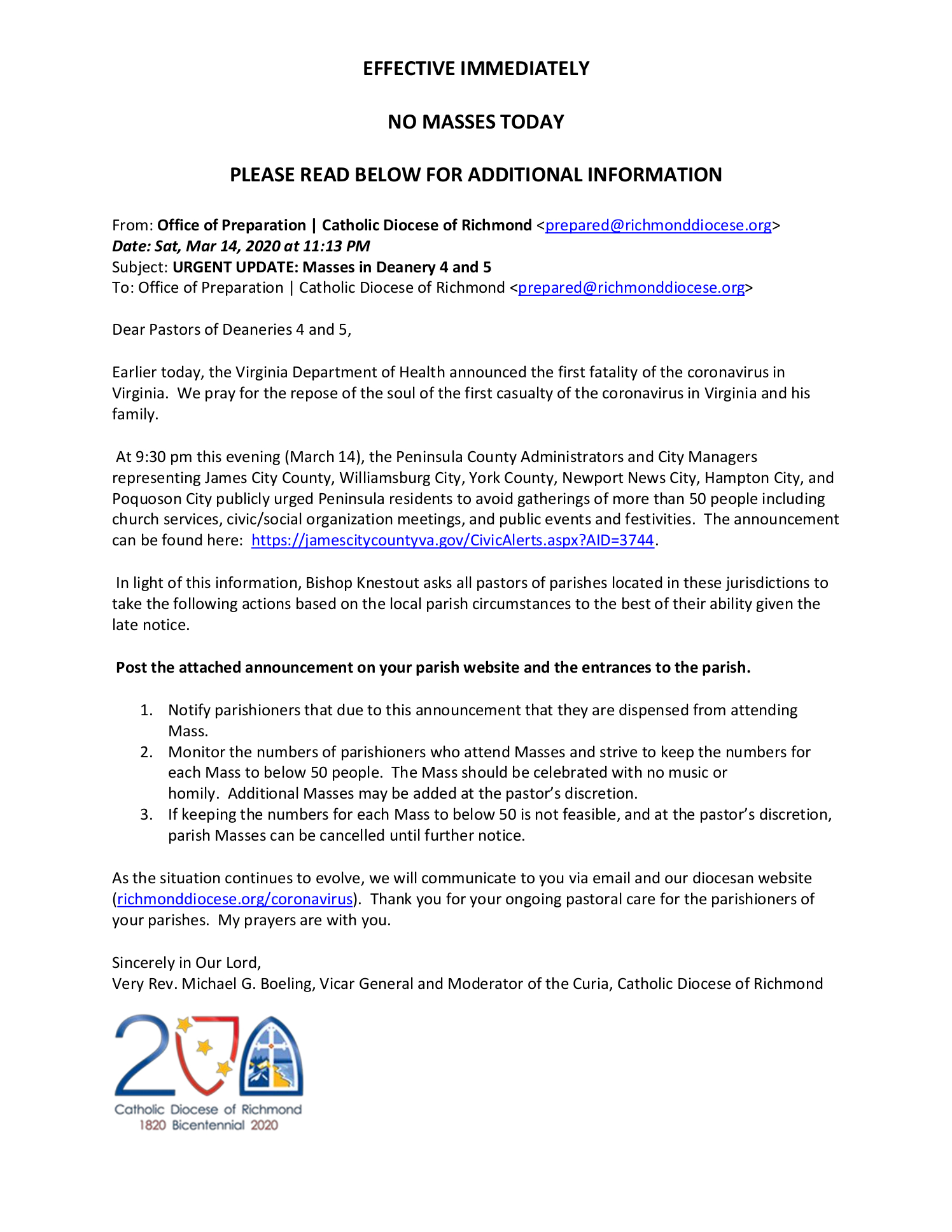 Official Letter
Additional Resources
Centers for Disease Control and Prevention (https://www.cdc.gov/coronavirus/2019-ncov/index.html)
Virginia Department of Health (http://www.vdh.virginia.gov/surveillance-and-investigation/novel-coronavirus/)
USCCB Memo on Liturgical Celebrations and Public Health Concerns (https://d2y1pz2y630308.cloudfront.net/12494/documents/2020/3/USCCB%20Memo.pdf) (February 27, 2020)