Our mission, centered in the Eucharist, is to love God and His people, and to extend His love to others through service and prayer.
---
Help Needed
With Masses opening back up to more parishioners, it is time to once again begin to schedule the following positions to assist with each Mass:
1. Ushers – Need a minimum of 3-4 for each Mass to ask questions, take temperatures, and assist with seating.
2. Lectors – Two per Mass, as usual
3. Collection Helpers – Two per Mass, as usual
4. Cleaning/ Disinfecting Crew – 3-4 per Mass – to clean and disinfect after each Mass
If you are able to assist with any of these duties, please contact the parish office ASAP at 804-843-3125 so we can prepare and distribute and updated Lay Ministry Schedule.
Currently and until further notice, we do not have a need for the following volunteers: Altar Servers, Extraordinary Ministers of the Eucharist, and Teachers for Children's Liturgy of the Word. We will let you know as soon as we are able to resume these ministries.
---
Regarding Livestreams
Due to COVID-19, Mass is being live streamed for use on various Diocesan digital media accounts of the Catholic Diocese of Richmond, including, but not limited to, the websites of the Catholic Diocese of Richmond and The Catholic Virginian, and social media platforms of the Catholic Diocese of Richmond. Photography and/or screenshot images from the livestream may be used for The Catholic
Virginian print edition. If you do not wish to be captured by live streaming, please refrain from attending that particular Mass time.
---
Fr Oscar's Mass for The 14th Sunday in Ordinary Time

Permission to podcast/stream the music in this service obtained from ONE LICENSE, License #A-711796. All rights reserved.
---
Stay Up to Date in Regards to the Coronavirus
Update June 13
Everyone who is in the Communion line for Communion must wear a mask, including children younger than 10. Children under 10 walking up with parents for a blessing and not Communion do not need to wear a mask.
Update June 6
The Diocese of Richmond has changed the minimum age of those who have to wear a mask from age 3 to age 10. Attendees from age 10 and up must wear a mask to Mass.
Update May 22
We have received our conditional approval to reopen our Parish this weekend for in-person worship services. Please review the Parish Flyers below which outlines the specifics on the conditions we must follow in order to reopen our church for in-person worship services.
We ask everyone who wishes to attend an in-person service to read and comply with this requirements. Per the Diocese requirements, no one will be invited inside the church without a personally provided face mask and can answer negatively the three required questions.
For those who would like to attend confession, the following schedule has been determined to best accommodate this desire, and still provide ample time for the church to be cleaned and disinfected prior to the start of Mass.
Saturday – Confession: 3:30pm – 4:30pm | Mass: 5:30pm
Sunday – Confession: 7:00am – 8:00am | Mass: 9:00am
Sunday (Spanish) – Confession: 2:00pm – 3:00pm | Mass: 4:00pm
Thank you for your patience and cooperation as we work to comply with the Diocese and Commonwealth instructions so we can worship together in our beautiful church while maintaining the required social distancing guidelines.
Thanks for your continued service to our Parish.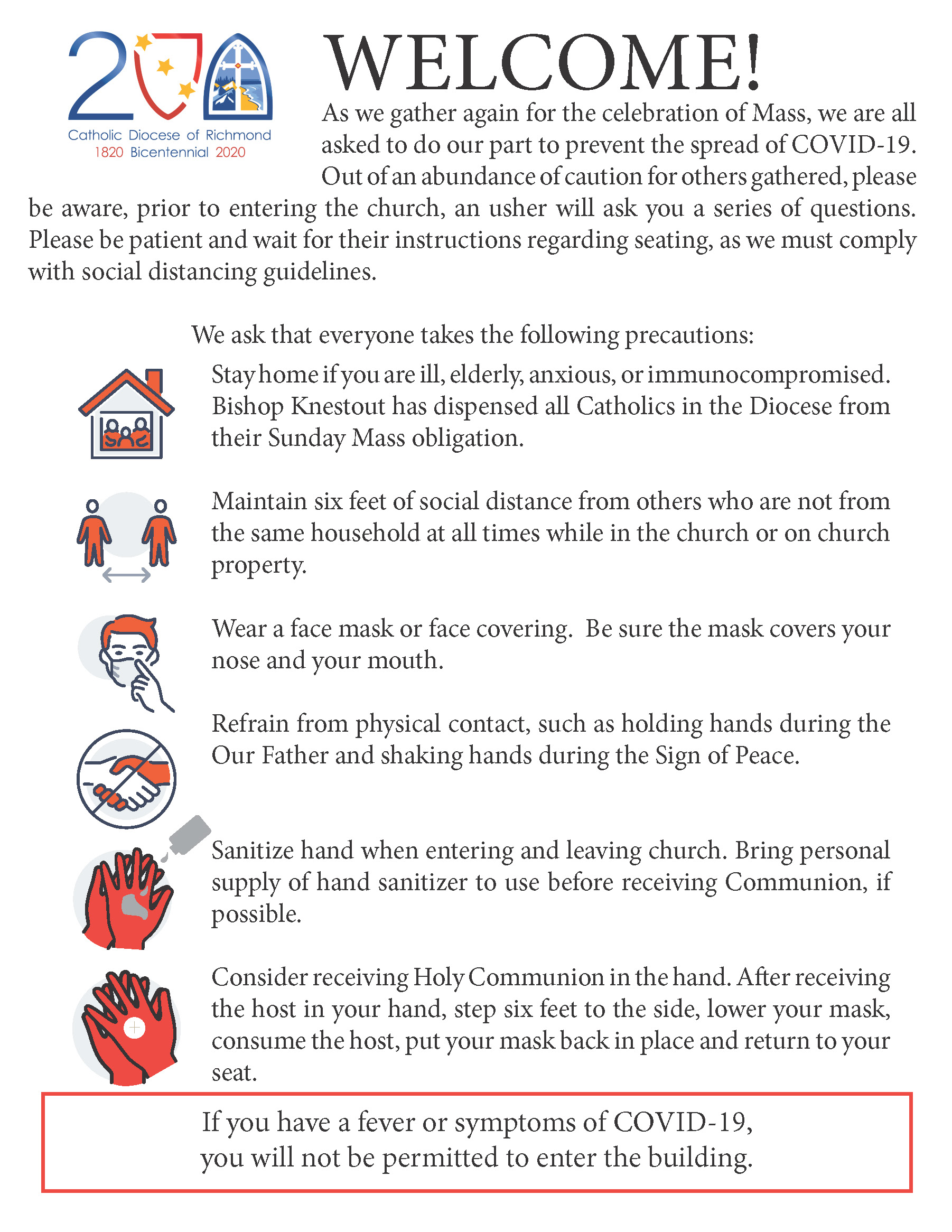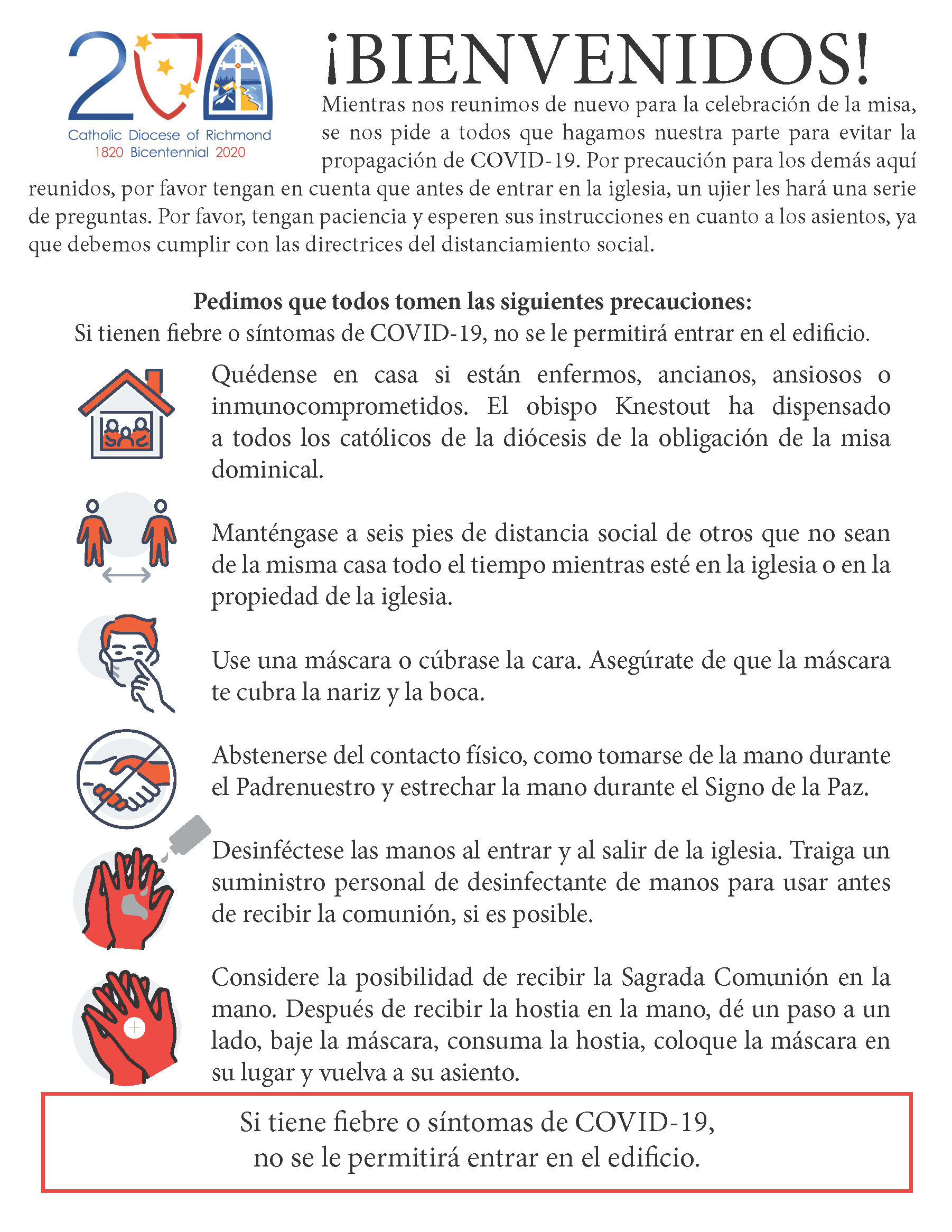 Update May 15


Masses to Resume May 23rd, 2020!


It is official from the Bishop's Office!!! Masses will resume with no more than 50% capacity on Saturday, May 23rd. There will be some mandated changes to how we practice our Mass. Effective immediately:
1. You are asked to stay home if you are ill, elderly, anxious, or immunocompromised. Bishop Knestout has dispensed all Catholics in the Diocese from their Sunday Mass obligation.
2. If you have a fever or symptoms of Covid-19, you will not be permitted to enter the building.
3. You should arrive at least 30 minutes prior to the start time for Mass to allow time for vetting and being seated by the ushers. The ushers will let each pew know the staggered process for exiting the Church once Mass is over.
4. Everyone shall maintain six feet of social distance from others who are not from the same household at all times while in Church or on Church property.
5. Everyone 3 years and older attending Mass shall wear a Face Mask. Be sure the mask covers your nose and mouth. (Face mask should be removed for Receiving Holy Communion.) Anyone who comes to Mass without a face mask, will not be admitted to Mass.
6. Look for direction from the ushers when going up to receive Holy Communion. Holy Communion should be received in the hand until further notice. There will not distribution of the Blood of Christ until further notice.
7. Refrain from physical contact, such as holding hands during the Our Father and shaking hands during the Sign of Peace.
8. Singing by the congregation is strongly discouraged.
9. Sanitize hands when entering and leaving Church. Bring personal supply of hand sanitizer to use before receiving Holy Communion, if possible.
10. Parishes are to suppress the distribution of bulletins at Mass at this time. *We will continue to make the bulletins available online, through email, and mail bulletins to those without Internet access.
11. The Church will be available Monday-Friday from 9am 'til 4pm for prayer. Call Parish Office at 804-843-3125 first, if no answer, try Father on his cell at 757-778-5118.
12. Father Oscar will continue to livestream on our Facebook page, the Sunday morning Mass at 9:00am until further notice. The Daily Masses will no longer be livestreamed as parishioners will be able to attend weekly Mass
13. Mass Schedule beginning May 23rd
Daily Mass: Tuesday-Friday 8:30am
Saturday Vigil Mass: 5:30pm
Sunday Mass: 9:00am
Spanish Mass: 4:00pm
---
Good Neighbor Center
As we continue to experience the difficulties of the COVID-19 pandemic within our community, we ask that you prayerfully consider providing some additional support for our local Good Neighbor Center, sponsored by the West Point Ministerial Association, housed in our Mercy Center facility at 207 West Euclid Blvd, West Point, VA 23181. In speaking with the GNC Coordinator, Mrs. Frances Thornton, she advised that their cupboards are quickly being depleted of basic staples and canned goods.
If you are financially able, we ask that you consider providing food donations of basic staples and canned goods to help the GNC continue to provide support to our local community during this health crisis. Please contact Mrs. Thornton at the GNC Office: (804) 843-4339 during the following hours: Hours: M- 10am – 2pm or W- 12:30pm – 2:30pm.
---
Mass Readings can be found in the bulletin.
Please check back for more additional information as it becomes available from the Diocese, OLBS Facebook and here.
---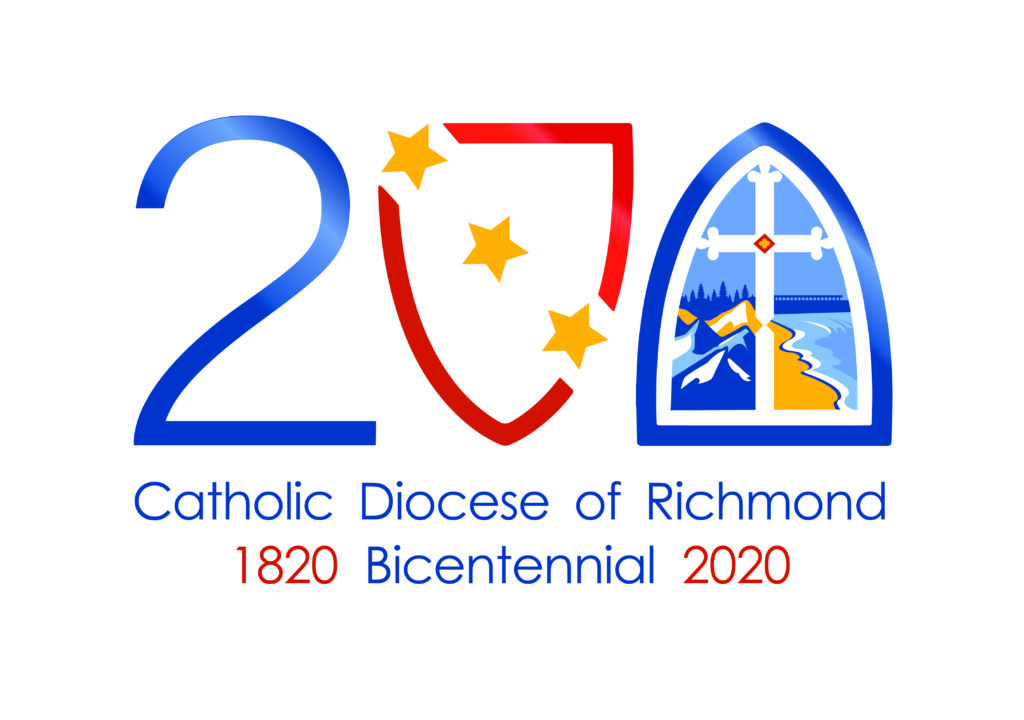 The Books commemorating the Bicentennial Celebration of the Diocese of Richmond are here! The Book, worth more than $100, can be purchased for a mere $35 and includes information on all the parishes, bishops, priests and the Diocese from its inception until present. Please call the parish office to place your order now or place your order at the back of the Church! You can look over a copy at the back of the Church. Soon, we will be sharing any leftover books with another parish, so please go ahead and get your books now.
---
Red Cross Blood Drive
The Parish Council and the Knights of Columbus have asked the Red Cross to conduct a blood drive on October 7, 2020 from 1-6pm. The Red Cross has agreed to do this if we provide them with a list of 35 or more donors willing to give blood. We are not there, yet. Sign-up sheets are in the back of the Church. For more information or if you have any questions, call Joe Drexler at (804) 366-7563 or Jim Milby at (804) 513-9799. Please sign up for this lifegiving cause. It doesn't take long to give blood but can go a long way in saving someone's life!
---
EthicsPoint
"Christian stewardship calls us to utilize the resources of the diocese with integrity."
Bishop Barry C. Knestout announces the implementation of a hotline that will be used to report concerns of suspected financial, administrative or human resource misconduct within the Diocese of Richmond. The hotline will be handled by an independent, third-party reporting system, EthicsPoint, to ensure accountability and transparency with reporting procedures. The use of such a hotline is another safeguard to protect the resources entrusted to us by the people of our diocese. Reports can be made online or by phone. Employees, volunteers, clergy, parishioners and any other individual wishing to report can do so anonymously, if they wish. The toll-free number is 844-739-3210 and is offered in multiple languages. To submit a report online, please visit the diocesan website, www.richmonddiocese.org, and select "EthicsPoint." The hotline number is not a 911 or emergency service number. Individuals should not use this number to report information that is of an immediate threat to life or property. Additionally, EthicsPoint is NOT intended to receive information about sexual abuse allegations. Abuse allegations should be reported immediately to local law enforcement and the Attorney General's Clergy Abuse Hotline at 1-833-454-9064. Additional information including a video message and letter from Bishop Knestout, a list of frequently asked questions and other resources regarding EthicsPoint can be found by visiting the diocesan website.
"La corresponsabilidad cristiana nos llama a utilizar los recursos de la diócesis con integridad."
El Obispo Barry C. Knestout anuncia la implementación de una línea telefónica directa que se usará para reportar inquietudes sobre presuntas faltas de conducta financiera, administrativa o de recursos humanos dentro de la Diócesis de Richmond. Un sistema de informes independiente, EthicsPoint, se encargará de la línea directa para garantizar la responsabilidad y la transparencia de estos procedimientos. El uso de esta línea directa asegura la protección de los recursos que las personas de nuestra diócesis nos han encomendado. Los informes se pueden hacer en línea o por teléfono. Los empleados, voluntarios, clérigos, feligreses y cualquier otra persona que desee a reportar una inquietud o preocupación pueden hacerlo de forma anónima, si lo desean. El número es 844-739-3210 y se ofrece en varios idiomas. Para enviar un informe en línea, visite el sitio web de la diócesis, www.richmonddiocese.org, y seleccione "EthicsPoint". Este número telefónico no es un 911 o número de servicio de emergencia. Las personas no deben usarlo para dar información que represente una amenaza inmediata de vida o de propiedad. Además, la intención de EthicsPoint NO es de recibir información sobre acusaciones de abuso sexual. Las denuncias de abuso se deben de hacer inmediatamente con las autoridades locales y a la línea directa de abuso del clero del Procurador General al 1-833-454-9064. Para más información, incluyendo un mensaje en video y una carta del Obispo Knestout, una lista de preguntas frecuentes y otros recursos relacionados con EthicsPoint, visite el sitio web diocesano.