Our mission, centered in the Eucharist, is to love God and His people, and to extend His love to others through service and prayer.
---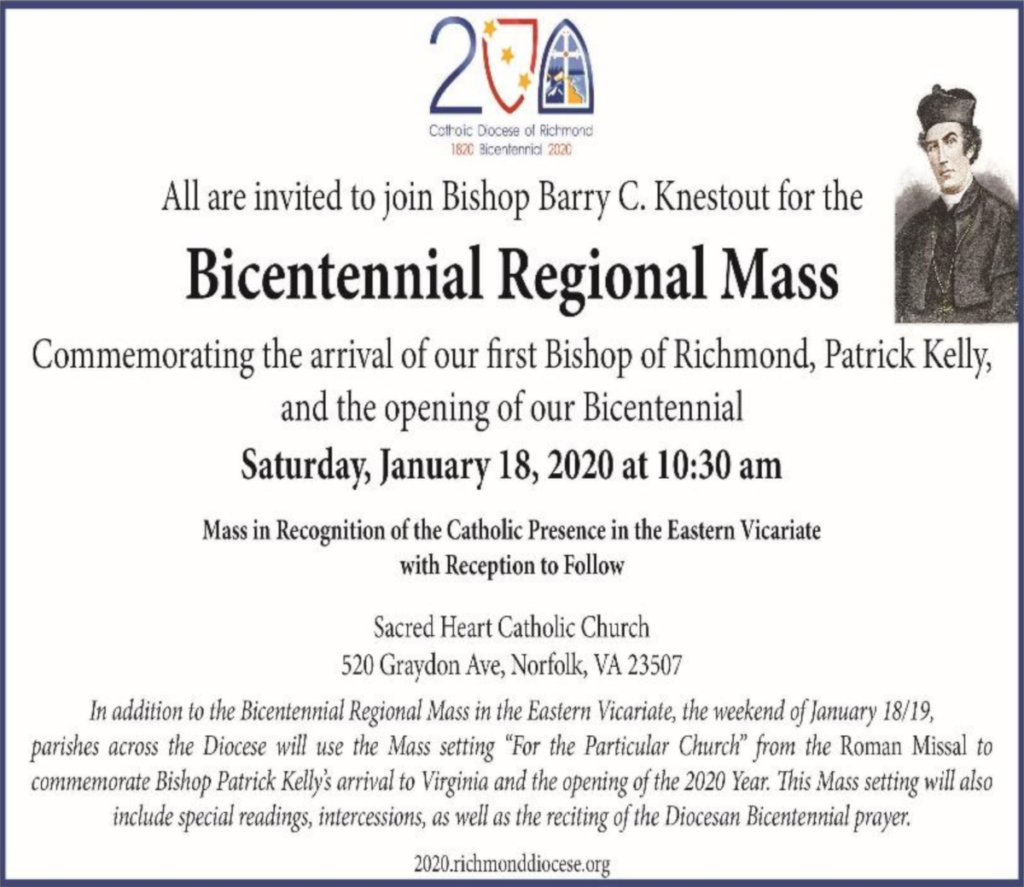 ---
Suggestion Box
Your Parish Council, during our March meeting, discussed how we can increase our parish membership and attendance, as well as increase ways to improve our financial growth. We are asking that you give some thought to these issues and submit your suggestions to the Parish Council using the SUGGESTION BOX located in the foyer of the church entrance. Your assistance in this endeavor is greatly appreciated.
---
A Letter from Bishop Knestout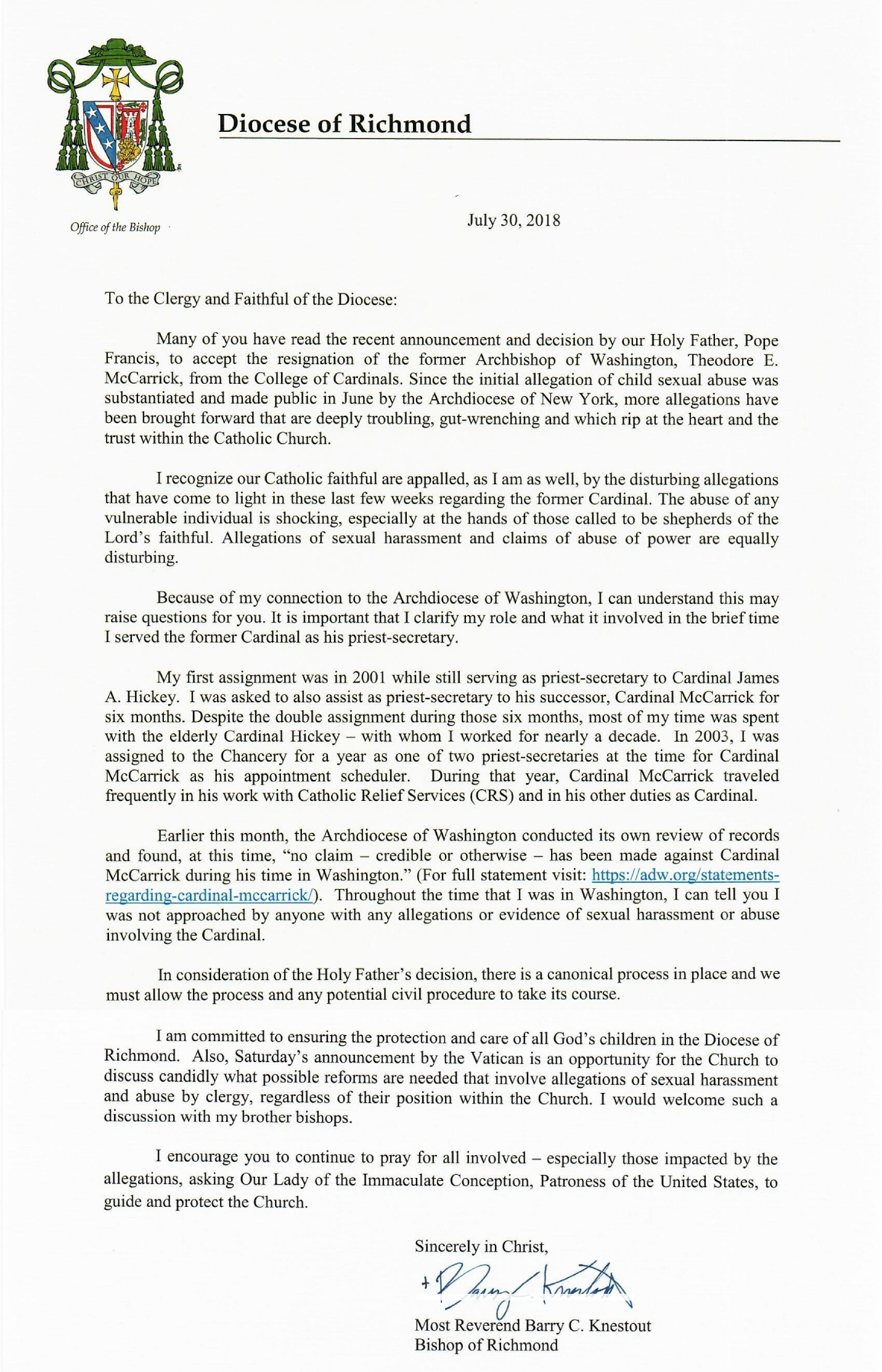 Bishop Knestout encourages anyone aware of sexual abuse of minors on the part of clergy or staff of our diocese to notify civil authorities, call the Attorney General's Clergy Abuse Hotline at 1-833-454-9064, and reach out to the Diocesan Victim Assistance Coordinator, Jennifer Sloan at 1-877-887-9603.
El obispo Knestout alienta a cualquiera que esté al tanto del abuso sexual de menores por parte del clero o del personal de nuestra diócesis para notificar a las autoridades civiles, llamar a la línea directa de abuso del clero del proCurador general al 1-833-454-9064, y llegar a la ayuda de la víctima Diocesana Coordinadora, Jennifer Sloan al 1-877-887-9603.
---
EthicsPoint
"Christian stewardship calls us to utilize the resources of the diocese with integrity."
Bishop Barry C. Knestout announces the implementation of a hotline that will be used to report concerns of suspected financial, administrative or human resource misconduct within the Diocese of Richmond. The hotline will be handled by an independent, third-party reporting system, EthicsPoint, to ensure accountability and transparency with reporting procedures. The use of such a hotline is another safeguard to protect the resources entrusted to us by the people of our diocese. Reports can be made online or by phone. Employees, volunteers, clergy, parishioners and any other individual wishing to report can do so anonymously, if they wish. The toll-free number is 844-739-3210 and is offered in multiple languages. To submit a report online, please visit the diocesan website, www.richmonddiocese.org, and select "EthicsPoint." The hotline number is not a 911 or emergency service number. Individuals should not use this number to report information that is of an immediate threat to life or property. Additionally, EthicsPoint is NOT intended to receive information about sexual abuse allegations. Abuse allegations should be reported immediately to local law enforcement and the Attorney General's Clergy Abuse Hotline at 1-833-454-9064. Additional information including a video message and letter from Bishop Knestout, a list of frequently asked questions and other resources regarding EthicsPoint can be found by visiting the diocesan website.
"La corresponsabilidad cristiana nos llama a utilizar los recursos de la diócesis con integridad."
El Obispo Barry C. Knestout anuncia la implementación de una línea telefónica directa que se usará para reportar inquietudes sobre presuntas faltas de conducta financiera, administrativa o de recursos humanos dentro de la Diócesis de Richmond. Un sistema de informes independiente, EthicsPoint, se encargará de la línea directa para garantizar la responsabilidad y la transparencia de estos procedimientos. El uso de esta línea directa asegura la protección de los recursos que las personas de nuestra diócesis nos han encomendado. Los informes se pueden hacer en línea o por teléfono. Los empleados, voluntarios, clérigos, feligreses y cualquier otra persona que desee a reportar una inquietud o preocupación pueden hacerlo de forma anónima, si lo desean. El número es 844-739-3210 y se ofrece en varios idiomas. Para enviar un informe en línea, visite el sitio web de la diócesis, www.richmonddiocese.org, y seleccione "EthicsPoint". Este número telefónico no es un 911 o número de servicio de emergencia. Las personas no deben usarlo para dar información que represente una amenaza inmediata de vida o de propiedad. Además, la intención de EthicsPoint NO es de recibir información sobre acusaciones de abuso sexual. Las denuncias de abuso se deben de hacer inmediatamente con las autoridades locales y a la línea directa de abuso del clero del Procurador General al 1-833-454-9064. Para más información, incluyendo un mensaje en video y una carta del Obispo Knestout, una lista de preguntas frecuentes y otros recursos relacionados con EthicsPoint, visite el sitio web diocesano.